The idea of this RP is to create your own fictional country and evolve/develop in the modern world. In the roleplay, you can cut deals or wage wars with other countries, or you can fend for yourself.
Please provide a map for your country. It should (at least) include the capital city and a map of all of the highways and roads. It is possible to gain or lose land in your country, but if such an event happens, please announce it and update your country's map to fit the new borders. If you want, you can provide a flag.
You're only allowed to play as modern countries. No futuristic, medieval, or fantasy aspects. Try to show a good comparison that demonstrates the projected size of your country (compare it against a real life country, for example). And try to be at least a bit serious.
For now, I will be playing as this country: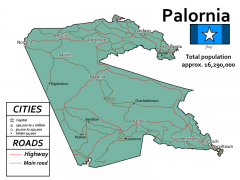 I recommend starting by showing the map and population of your country, like I did. Feel free to provide details like currency, national animal, language, and/or maps of towns or cities in your country. Example:
Palornia:
Demonym: Palornian
Currency: Palornian Dollar
National Language: English
Independence proclaimed: 1803
Simple roadmap of Bentilan, a small town in the western side of the country: