AE Arabic Design Contest 2019
We are back! | لقد عدنا
Hello! It's been a whole year since the last edition of the AE Arabic Design Contest. I started the contest to encourage the creation of higher quality Arabic designs in AE, and it sure did pay off with some excellent submissions last year.
We had a spectacular top three: Iraqi, Nakheel, and Jazira that each in their own way painted fabulous representations of Middle Eastern aviation. We also had a great set of runner-up designs that displayed some high quality design work. I also hope all the feedback and tips have helped you create better Arabic branding since then.
Now, it's time for the contest to return bigger and better!
Submit a brand portfolio for an original airline based somewhere in the Arab World* by July 12th.**
Please carefully read the rules, guidelines, and point categories for more information.
CLOSED FOR ENTRIES AS OF JULY 12TH 11:59PM!
Please read the rules and guidelines carefully for more information and to ensure that your entry is accepted.
After submissions are finalized points and and commentaries will be distributed. Select members of the AE design community may be further consulted before the brands are ranked and our winners are announced as AE's Best Arabic Brands 2019! Runner-up designs will also be announced. With permission, a selection of this year's submissions may be featured on a special gallery.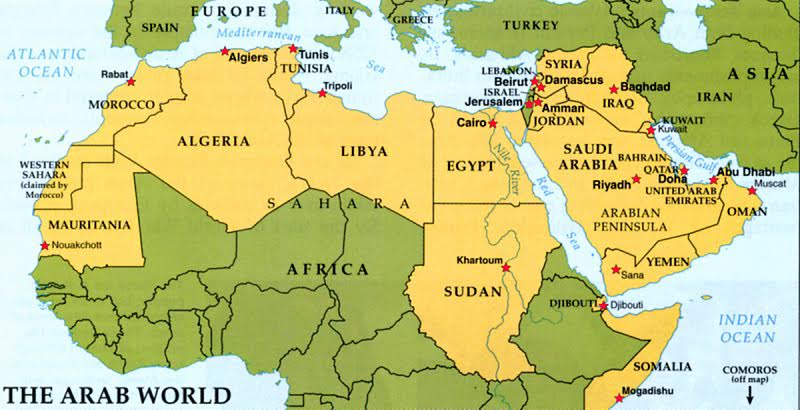 Figure 1. A map of the Arab World. Israeli designs will not be considered
Rules
"Brand portfolio" entails a logo and livery at minimum.

Participants may submit a single entry for Group [A] - National Carriers and Group [B] - Low Cost Carriers + Cargo, Charter, and Other Carriers


[a]. Clearly indicate which group your entry belongs to; [b]. If you submit to both groups, make a separate post for each group entry; [c] You may not change a group after your entry is accepted into one.



Total submissions cannot exceed two per unique base of operations e.g. no more than two airlines based in Egypt, or no more than two airlines based in Cairo on a first come basis. Discretion is reserved over which rule applies. Subject to exception and appeal. Please refer to the document

mentioned in Rule 7 to know which hubs have been filled.




Logo and/or Livery must contain Arabic titles.




Airline submissions must be based in the Arab World (see figure 1); Israeli designs will not be considered.



The re-submission of entries from previous Arabic Design Contests is not allowed, subject to exception and appeal:
[a]. Designs sufficiently changed and/or improved upon, for which discretion is reserved, will be allowed to re-enter; [b]. Previous Top Three entries and Runners Up are not allowed to re-enter.

Entries must be submitted on a post on this thread exclusively and following the following format:
[a]. Include at the top of your post: "[Group (A/B)] [Airline Name] [Base City]", e.g. "GROUP A | Saudi Airlines | Jeddah";

[b]. Disable your signature by unchecking "enable signature?" on your post's full editor mode to keep this thread clean; [c].

Entries may be edited, added upon, or withdrawn any time before the submission deadline with no consequence to its consideration in the contest, only finalized entries will be considered past the submission deadline [d] Limited branding or design advice may be offered upon request or if necessary. [

e]. Entries will be considered official entries after providing all required details and being recorded on this

document

. [f]. Designs sent through PM or Discord will not be considered.
Guidelines
Name and overall brand design must be as original as possible.




You may submit entries made from scratch or ones previously prepared, so long as they follow all the rules and guidelines.




Submit only modern airline designs (~2010s–). Exclusively historical entries will not be considered. Brand timelines/evolutions may be considered if a modern livery is included as well.




Written descriptions, explanations, or histories are not required but will be considered.
Points
Concept



Originality & Inspiration 5pts| Realism & Accuracy 5pts



General Design

Design 5pts | Cohesiveness 5pts

Arabic Design

Arabic Elements 5pts. | Fonts & Font Pairing 5pts.


* See Figure 1.
** Deadline may be extended.
***Boing reserves the right to modify rules, guidelines, or point categories. New rules, guidelines, or point categories will be made clear.