Some of you may have noticed lately in the gallery that I've been working on a VA based on one of my AE airlines. For those of you who haven't, I'm proud to introduce Glacier Virtual Airlines.
This thread serves to chronicle the development of Glacier as a realistically growing VA from a small carrier in remote Northern Canada into a major Canadian full service carrier. The purpose of this thread is not for recruitment, but that being said we are always looking for new pilots to help grow the airline.

GVA launched as as GlacierNord, our Northern Canada divison, on the FSAirlines system on 10/27, and we recently made the switch the the VAFinancials systems. Under VAFS, we currently operate the following aircraft: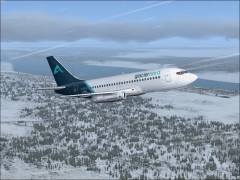 3x - Boeing 737-200C
Tinmouse II model. Painted by yours truly.
Payware option is the Captain Sim 737-200.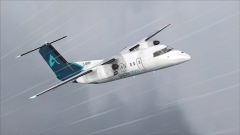 3x Bombardier Dash 8-100
Dreamwings model. Painted by yours truly.
These six aircraft are based at our hubs in:
Yellowknife, Northwest Territories (YZF)
Whitehorse, Yukon Territory (YXY)
Iqaluit, Nunavut (YFB).
Current routes consist of regional links between remote cities and towns in Northern Canada and routes linking our three main hubs with Canada's southern gateways. For the time being we plan to operate solely as GlacierNord until we obtain the funds and aircraft to establish ourself in Canada's larger Southern airports.
In addition to updates posted here, we maintain a website with real-time info on the company's operations and regular news over at https://glacierva.weebly.com. Come check us out!
As the airline is run through VAFS, any interested pilots must download the VAFS ACARS program from here and apply here. If you have any questions, feel free to contact me here or Discord (Viero#0589).
Additionally, we maintain a Discord server here.
Recent News:
Boeing 737 Classics are planned to be acquired in the near future to replace the -200C as the workhorse of the fleet, although the -200Cs will be retained for use on gravel runways.
Iqaluit has been made our third hub, and Rankin Inlet is now a focus city. Both locations are in Nunavut.