1
Copyright
Template by Med, Livery by Blanco974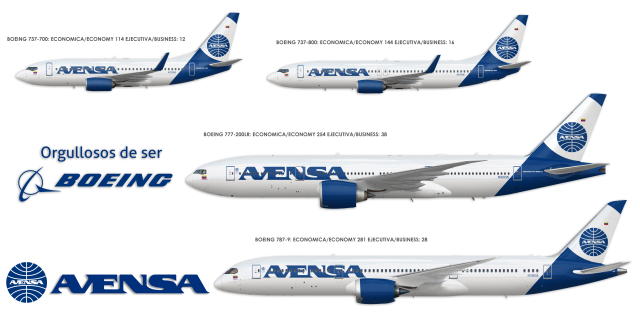 Hoy he realizado un "nuevo livery" adaptado a los nuevos tiempos, manteniendo como base el ultimo livery utilizado por la aerolínea desde mediados de 1980s (1984 exactamente) hasta el 31 de Diciembre de 2004.

Tomando en cuenta en que Avensa a lo largo de los años uso una imagen basada en la que fuera su Fundadora y Accionista Pan American World Airways he adoptado el ultimo logo de cola con el globo terráqueo como protagonista.


Today I have made a "new livery" adapted to the new times, based on the last livery used by the airline since the mid-1980s (1984 exactly) until December 31, 2004.

Taking into account that Avensa over the years used an image based on what was its Founder and Shareholder Pan American World Airways I have adopted the last tail logo with the globe as the protagonist.
Avensa New Livery Fleet