1

Coastal A330-300 2016 Livery
Uploaded by
M31MK
, Apr 19 2021 02:30 PM
Copyright
Airlithuania, Med, Theaviationspotter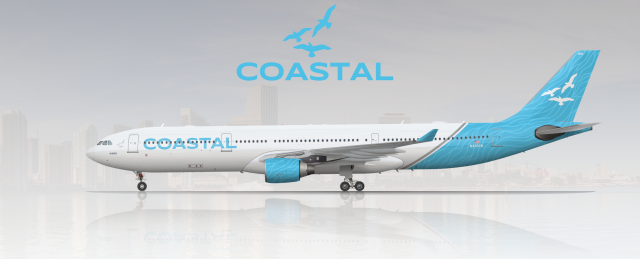 After Coastal's 1998 merger with Goldenair, the airline acquired 16 A330-300's. This fleet quickly became an integral part of Coastal's long haul fleet. By 2000, the airline had ordered 30 more, for massive amounts of long haul operation expansion, and to eventually replace the DC/MD-10 fleet. But by 9/11, with demand down, the airlines expansion plans had been halted, and the MD/DC-10 fleet was retired early, with the new A330's being used to fill in these replace the DC-10 fleet instead of their original use on new long haul routes.
By 2006 Coastal management decided to slowly streamline the long haul fleet, with the A330 becoming the primary long haul aircraft in the fleet. At the Farnborough Airshow, the airline announced an order for 30 more A330's, and 20 A350-900's, the largest widebody order in history.
The aircraft shown here, N566CA, is based in Boston-Logan International Airport, and is primarily used on transatlantic flights to western Europe.
Coastal A330-300 2016 Livery