1

SACASA - Airbus A319s
Uploaded by
Makka
, Apr 01 2023 02:28 AM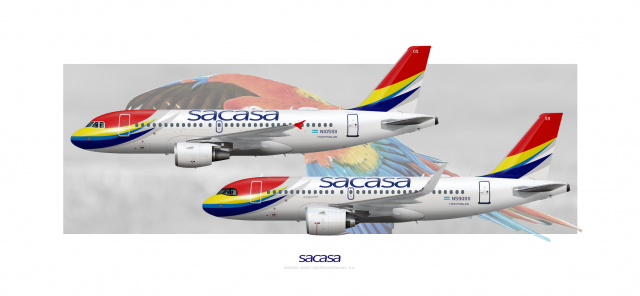 SACASA (Servicio Aereo de Centroamerica S.A.) is a legacy airline based in Honduras' Comayagua International Airport. It is one of the oldest airlines in the world, having been founded in 1929 by American businessmen in Tegucigalpa, and rapidly grew to one of Central America's largest airlines, setting up hubs in Costa Rica, El Salvador and Nicaragua.

The airline operated, at its peak, multiple 767 widebody aircraft out of San Pedro Sula while its main operations remained out of Toncontín, servicing destinations as far-flung as Chicago and Sao Paulo with 757s out of Toncontín airport. Operations out of Honduras were fully shifted to San Pedro Sula twice in 1999 and once again in 2008 following two very similar fatal crashes of a 757 and an A320 on the banked approach to the valley airport during foggy conditions, which led Honduran politicians to ban both types, as well as the A321, from Toncontín for posterity. The airline was forced to scale down all its operations and shift all 757 and A320 operations from Toncontín to San Pedro Sula, which were also quickly wound down as the lack of a long-haul service, which was bought out and run to bankruptcy by ALAS Centroamerica in 2003, meant that there was no longer any point in serving a town with only a few hundred thousand residents and limited tourism capacity.

Following the restructuring, the airline operated an eclectic mix of A318s, A319s, Dash 7s, Dash 8 and Cessna Caravan aircraft out of Toncontín and San Pedro Sula to regional destinations until the ALAS Group purchased a majority stake in 2012 following the filing of Chapter 11 bankruptcy protection. A further restructuring project resulted in the breakup of the jet fleet and turboprop fleet into SACASA and spin-off Aero Honduras respectively (which also went bankrupt a few years later).

Currently, the airline, under ALAS Group leadership, has a fleet of twelve A319s - two neos and ten ceos. The airline operated out of Toncontín, being the home carrier of the airport, until 2021, when all operations were shifted to neighbouring Comayagua.


AIRCRAFT DETAILS
Airbus A319-100 - N105SS
August 2005 delivered to SACASA
June 2011 involved in minor runway overrun at Toncontin; repaired & returned to service
Airbus A319neo - N590SS
December 2022 delivered to SACASA
SACASA - Airbus A319s