1

Royal Omani Airbus A340-500 (ish)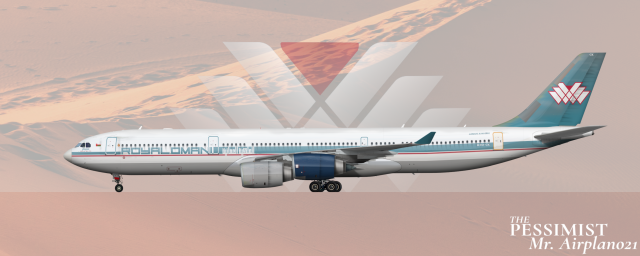 January 15th, 2023 was the 85th birthday of the Sultan of Oman. It is considered good practice for the more influential and prestigious organisations within the Sultan's government to present the Sultan some sort of birthday present. These presents should be proportionate to the magnitude of the birthday in question. The Sultan and his family has been a long and strong supporter of Royal Omani and so management at the carrier has dutifully presented the Sultan with a birthday present every February. Some years, this present is the single largest transaction on the carrier's balance sheet. 2023 looks to be one of those years. Management wanted to present the Sultan with a new large flagship for the Royal Omani fleet. However, they did not have the cash to buy a good condition used much less a new widebody. So, the airline opted for a more creative solution to the problem.

Inquiring minds will recall that Royal Omani's former flagship A340-500, registered A4O-CK, was grounded as of the creation of my previous post about Royal Omani titled "history of the entire Royal Omani, i guess". In early 2022, this post was still accurate in describing the A340-500 as an apparently lifeless hulk rotting away on a remote, abandoned taxiway in Muscat. However, management saw a perfect opportunity to present the Sultan with a gift he would never forget. Work began and Royal Omani maintenance personnel feverishly worked to determine everything that needed fixing on an aircraft that had for all intensive purposes been left to die. The issue of most concern was Engine 1, who's failure had constituted the original reason A4O-CK had been grounded. Finding a new engine for a relatively rare aircraft type was a difficulty and the dealers who did have such parts in stock used this scarcity to charge prices well out of Royal Omani's acceptable price range. The stay outside had caused significant damage to a number of forward facing surfaces due to sandstorms. Worse, a person or group of persons had broken into the aircraft with a ladder and had stolen a number if seats from inside of the aircraft but had also damaged the door through which they had entered seriously enough that it was not salvageable.

Meanwhile, across the globe, another reputable enterprise was facing a serious issue. Valiant's recent decision to accelerate the retirement of its flagship A340-600s has flooded the market with various -600 parts as former Salties are parted out. One company who purchased three worn out Valiant A340-600s was Baton Rouge's Bass Scrap & Sheet Metal Inc (BSSMI) made a gamble that it could fetch a pretty penny from taking apart a complex machine like a widebody aircraft. From skin tags to various flight instruments, BSSMI thought it would be easy to convince aircraft enthusiasts to pony up sufficient sums for various commemorative items. And so with all confidence in their assured success, the acquired three of the aircraft from a boneyard and had them partially disassembled and then trucked from Nevada to Baton Rouge. Their market analysis was incorrect. This left BSSMI with three quite expensive and large aircraft shells taking up a considerable portion of their yard space. BSSMI began an international search for someone, anyone who would want parts from no longer airworthy A340-600s.

BSSMI and Royal Omani were a perfect match. It is unclear exactly how the two corporate entities made contact and eventually brokered a deal to ship a number of parts from Louisiana to the sunny shores of Oman, but in mid 2022 a medium sized cargo ship departed the Louisiana port with a cargo of, among other items, several assorted aircraft parts. The new aircraft sections endured a long and painfully slow journey, but eventually arrived at Royal Omani's maintenance hangers in Muscat. Now the real work began as mechanics replaced the nose cone and much of the tail's leading edge along with the broken rear door with fresh American parts. A number of the aircraft's interior fittings, mostly seats, were replaced with a variety of used seats from several carriers. The looming issue was still the engine because whilst the -600 and -500 have extremely similar engines, they are not the exact same. The two types have slightly different thrust and fuel consumption rates which meant that a number of software and electrical disagreements required resolving. Sadly, these tweaks were not ironed out by the January 15 deadline. Nevertheless, the Sultan was introduced to his favourite airline's new 'state of the art' Airbus A340-700 as part of his birthday celebrations in Muscat. The Sultan of Oman, who meets the United States Surgeon General's criteria to be considered legally blind, said that he loved the colourful new paint job the aircraft was wearing. He and his entourage boarded the new aircraft and enjoyed a very brief flight from Muscat and back to Muscat to provide an aerial view of the great capital of Oman. Although this normally would have been an extremely easy flight to undertake, the fact that engine 1 was non-functional must surely have made it a technically difficult journey.

Shortly after the flight, the Airbus computers were finally reprogrammed by specialists to allow for 'normal' 4 engine operation of the aircraft. Sadly, several national aviation authorities have threatened to suspend Royal Omani's permit to fly into their respective airspace if they attempt to operate A4O-CK on flights into their countries so the aircraft has only so far operated a number of oddly routed flights to the small number of countries who are unconcerned with the airworthiness of the newly upgraded A4O-CK. Most prominently these countries have been Thailand, South Africa, and Russia. It remains to be seen if the airframe will or can remain in service but so far it has not reported any major incidents in its first week of regularly scheduled operations.
Royal Omani Airbus A340-500 (ish)