1

MBTA CRJ 200
Uploaded by
J.C
, Nov 24 2022 01:59 AM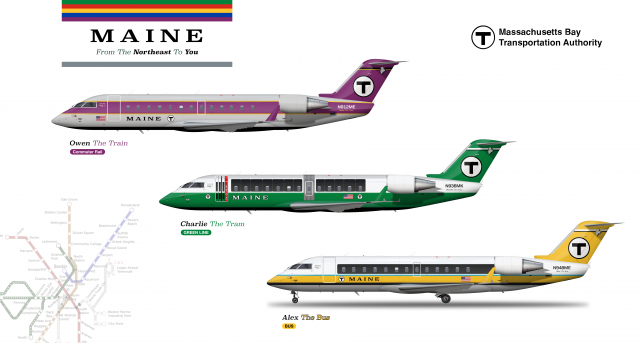 Maine's partnership with the Massachusetts Bay Transportation Authority first started in the early 2010s, when the airline partnered with the MBTA in a ride+fly program, providing discounted Commuter Rail tickets and a free shuttle from North Station to Boston Logan to those flying on Maine. In 2017, to further promote the partnership, 3 Maine CRJ-200s were painted in special MBTA liveries, one resembling a Commuter Rail train, and one resembling an MBTA bus. For the last livery, embers of Maine's MooseRewards frequent flyer program voted on the design, with the Green Line Type 7 tram design beating out the Type 8, Blue, Red, and Orange Line train designs. The 3 jets took to the skies in 2018, and have been wearing their special liveries since.

In October 2022, N936MK, wearing the Green Line special livery, encountered mechanical issues while at Boston Logan preparing for a flight to Portland International Jetport. After the passengers were asked to deplane, a replacement aircraft was prepared, which just happened to be N948ME, wearing the Bus special livery. Coincidently, the Green Line D-branch was undergoing maintenance at the time, and shuttle bus replaced service. This sequence of events quickly became a meme amongst Bostonians, as "even the Green Line plane needed a "bus" replacement service."
Aircraft Pictured:
N912ME, Bombardier CRJ200 "Owen The Train". Delivered to Maine in 2005, named "Owen The Turtle" until 2018.
N936MK, Bombardier CRJ200 "Charlie The Tram". Delivered to Maine in 2007, named "Charlie The Hawk" until 2018.
N948ME, Bombardier CRJ200 "Alex The Bus". Delivered to Maine in 2004, named "Alex The Shark" until 2018.
MBTA CRJ 200