1

Air Juanda McDonnell Douglas MD-83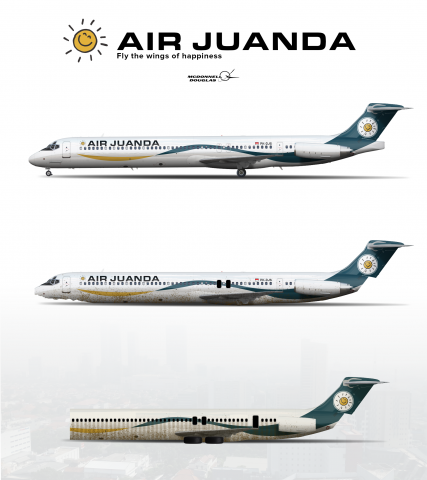 Air Juanda was an Indonesian low-cost airline founded in 2003 to capitalize on trends in the domestic market. It was based at its namesake airport Juanda International Airport, serving Surabaya. The airline had a fleet of 6 American-made MD-80 aircraft.

On December 19th, 2006, Air Juanda Flight 439 took off from Surabaya en route to Makassar with 137 passengers and 6 crew on board. They began to approach Makassar around 3:12 PM. The weather was stormy, making the runways slick with rainwater. The aircraft touched down on runway 31 at 3:26 PM about 1,100 feet away from the threshold. The crew attempted a go-around, however before this could happen, the aircraft exited the runway and came to rest on a neighboring highway. The aircraft's gear was ripped off and the foreword airframe was damaged, which led to it being written off. Of all 143 occupants, about 35 were injured. A flight attendant was hospitalized for a vertebrae injury. Initially, all survived the crash. However, a 64-year-old passenger died of a heart attack 5 days later due to complications from the crash. The flight attendant would die from an opioid overdose one month after the crash.

An investigation was launched and found the cause to be a number of factors. The rain-slick runway led to reduced brake effectiveness which delayed a full stop. The pilots made several errors, such as an unstable, fast approach and failure to deploy thrust reversers upon touchdown, instead relying on the brakes. Air Juanda was found to have faulty pilot training which prevented pilots from knowing how to properly demonstrate procedures on bad weather approaches.

Air Juanda, straddled with high amounts of debt and bad publicity from both service cuts and the accident, began to financially struggle throughout 2007. On February 4th, 2008, it filed for insolvency and ceased all operations. Assets from the airline were sold to various competitors.

The accident aircraft was stored at Makassar after the crash. In 2010, the foreword section was removed and stored at an aviation maintenance facility for educational purposes. The aircraft was slowly stripped of valuables until it was fully scrapped in 2012.
Air Juanda McDonnell Douglas MD-83