1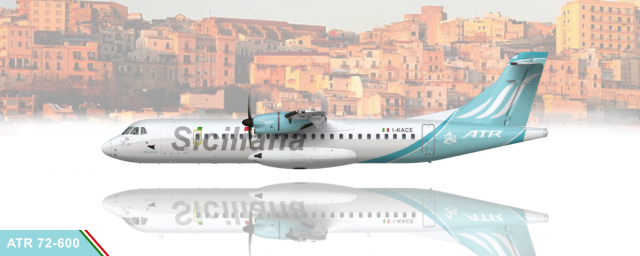 The ATR is the aircraft that has most marked the Italian company. In fact Siciliana is today the European airline that has operated the most ATRs since its creation in 1987. It will have operated almost all the versions proposed by the French-Italian union.

Following the new operating plan implemented in 2009, an order for 10 ATR 72-600 spread over 4 years was placed in October 2011. This order aims to renew the fleet of aging ATR.

The I-KACE is the fifth ATR 72-600 to be delivered. The aircraft entered service in early May 2013. Its inaugural flight took place a few days after its delivery on a flight from Catania to Florence.

Director of Aircraft Operations (April 2016): "The ATR is part of our history. It is an aircraft that has always followed us since our creation, no matter what we have gone through. The version 600 of the model 72 is the latest in the ATR range, it is more ecological, more comfortable and less expensive. It has new and more powerful engines with the latest avionics for the cockpit. It is a great pride for us to continue with ATR, and to operate this aircraft which adapts perfectly to all the configurations of grounds that the crews can meet. It is a very popular aircraft that has proven itself time and time again. It has held the top position in the regional aircraft category for three consecutive years. It is a very reliable aircraft, we have full confidence in it."
ATR 72 600