1

Red Firefighter - Boeing 747 Supertanker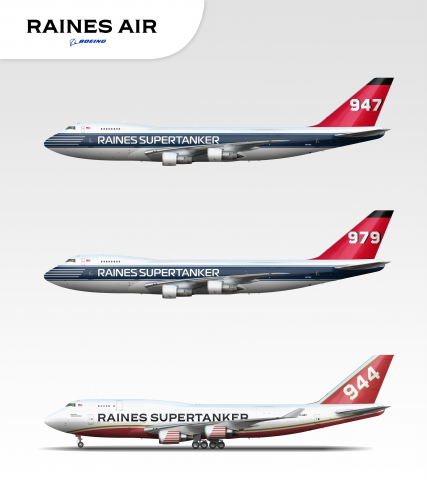 The 747 Supertanker was one of the more strange undertakings by Raines Air. After two fatal crashes during the 2002 fire season, the US Department of Interior began to look for companies to create a next-generation firefighting aircraft. Raines Air took up the development of a firefighting 747 aircraft in 2003. They would partner up with Spanish-based aerial firefighting company Torres Air Services to provide consultation on the design.

The prototype, N470RI, took its first flight in 2004. The aircraft, formerly a cargo one, could carry 16,900 US gallons of fire retardant. It could lay down a line of retardants over 3 miles long and 150 feet wide. In 2006, the FAA certified the design. N470RI never entered service and was scrapped. N479RI was converted in 2009 and was deployed to its first mission fighting fires in Cuenca, Spain.

The Supertanker was deployed to fight various fires in Israel, Arizona, and California over the next few years. In 2016, a Boeing 747-400, N744ST, was converted to the Supertanker configuration and entered service. This aircraft would replace N479RI, which would retire that same year and get scrapped at Mojave in July 2017. N744ST would start fighting fires in Israel, Bolivia, California, and Chile.

In 2021, Torres Air Services began considering liquidation after severe financial difficulties. They would do so in April 2021 and ground their fleet. Raines Air put the Supertanker out of service and converted it into a cargo aircraft, and N744ST now flies for Raines in a white livery.
Red Firefighter - Boeing 747 Supertanker