1

Yellow Tailed Haulers - Boeing 747-400BCF (DHL Livery)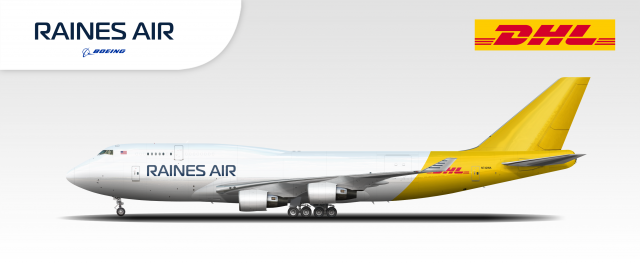 The relationship between DHL and Raines Air started in 1992, when DHL contracted the company to fly it's parcels domestically. After temporarily cutting ties with Raines due to their bankruptcy, the two companies strengthed their bond in 2002 via an agreement for Raines to operate DHL planes. For 2002 to 2008, Raines Air would operate 757 freighters painted in the full DHL livery.

The merger with World Airways brought 3 new 747 aircraft to the fleet. They didn't have nose doors, which Raines preferred, so their use would be limited compared to the rest of the 747 fleet. It would be decided that these would exclusively operate for DHL in a hybrid livery. In August of 2012, these aircraft went into service and still operate for the airline today.

N742WA is one of these aircraft. It was delivered new to Singapore Airlines in December of 1995. From 2009 to 2010, it flew for Eagle Aviation France before ending up at World Airways after being converted to cargo. Ownership was transferred in June 2011 to Raines Air and was rebased to LAX.
Yellow Tailed Haulers - Boeing 747-400BCF (DHL Livery)