1

Dirty Dogs - McDonnell Douglas MD-11 and DC-10-30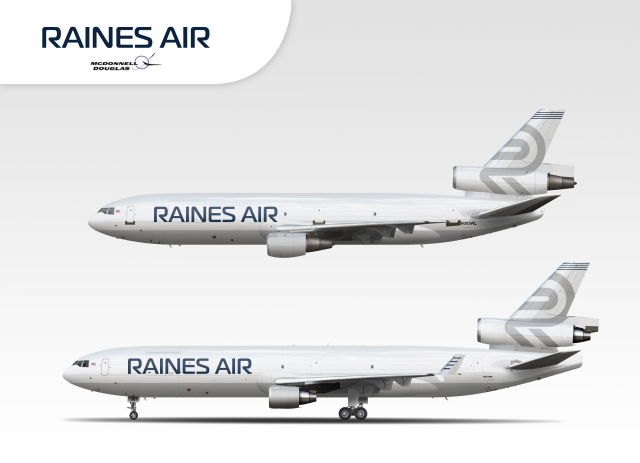 The 2010's were much needed relief for Raines Air. The 2008 recession had rocked the nation and Raines Air suffered economically. High fuel prices and a lack of capacity caused many scheduled flights to be cancelled. In the second quarter of 2009, executives started to consider a second bankruptcy filing, but these never came into fruition. By 2010, profitability had returned but the recession scarred the company for years afterward.

Global Aviation Holdings, the parent company of World Airways and North American Airlines, wasn't so lucky. They had overseen the bankruptcy of their largest airline, ATA Airlines, in the midst of the recession. It ceased operations and assets were sold to Southwest Airlines. The next few years were riddled with dwindling profits and disappearing contracts. The days of North American and World Airways were numbered, and fate was approaching fast.

Talks for a potential merger started between Raines Air Systems and Global Aviation Holdings in July of 2010. It was agreed that any transaction would be made in cash and Raines Air Systems would acquire Global Aviation Holdings fully, buying back stock and reshuffling assets. Finally, on November 23rd, 2010, Raines Air Systems announced that it had acquired Global Aviation Holdings for a 290 million all cash transaction.

World Airways would quickly merge with North American Airlines, using the aircraft acquired to replace their aging and old fleet. It would hand over the MD-11, DC-10, and 747 fleet to Raines Air. The passenger MD-11s were converted to cargo and redelivered to Raines Air, while the rest of the fleet was already converted to cargo. In total, there were 17 MD-11s, 3 747s and 1 DC-10 added to the Raines Air fleet.

N303WL was the only DC-10 carried over to Raines Air. It had previously served with Lufthansa, Condor and Continental before it was delivered to World Airways in 2001. Ownership was changed to Raines Air in March of 2011. N381WA used to fly for Korean Air, serving from 1992 to 1999 as a passenger aircraft and up until 2005 as a cargo aircraft, where it was sold to World Airways. Raines Air would acquire it in July of 2011.

The McDonnell Douglas aircraft lived a rather uneventful life at Raines. These aircraft mainly filled the gaps in capacity, so they were not used often. They were often unkempt and were maintenance intensive, gaining the nickname "Dirty Dogs" by mechanics. The aircraft were quickly retired and replaced by the 767 and 747. N303WL was retired to Mojave in 2015 and the last MD-11 would take it's last flight on August 10th, 2016.
Dirty Dogs - McDonnell Douglas MD-11 and DC-10-30