1
Qantas New Zealand Fleet Poster
Copyright
Pingu, Med for the Dash-8 templates, SirFlyHigh for the BAe 146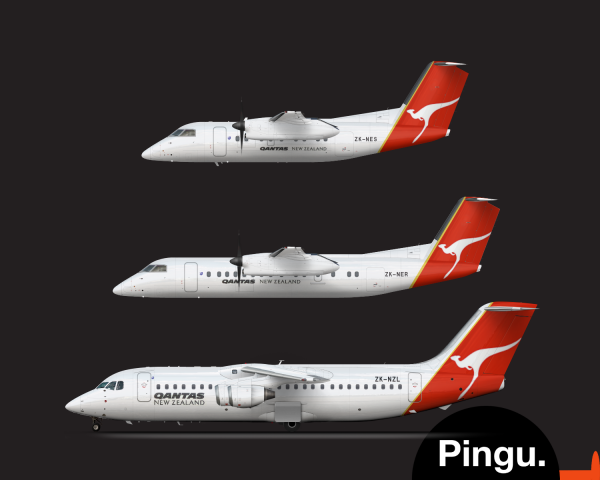 Ahh Qantas New Zealand. Founded on the dumpster fire of Ansett New Zealand when it collapsed, yet it only lasted 7-and-a-half months before ceasing operations. But hey! It lead to Jetstar operating domestic services! "How?!" you may ask. Well it's all about to be explained now!

Qantas New Zealand was an airline that did not last long whatsoever. It was founded upon the financial dumpster fire that was Ansett New Zealand in the year 2000. Many businessmen, including David Bletcher, Sir Clifford Skeggs, Alan Gibbs, and Trevor Farmer, bought Ansett New Zealand from Rupert Murdoch's News Corp. when the airline collapsed and at the end of June 2000, Tasman Pacific Airlines, the company that was set up by the aforementioned businessmen that now owned Ansett NZ, announced that Ansett New Zealand would rebrand to Qantas New Zealand, operating as a franchise of the major Australian airline.

Qantas New Zealand officially launched on the 4th of September 2000, operating the fleet of the former-Ansett New Zealand. This included eight BAe 146s, five Dash-8-100s, and two Dash-8 300s (don't get confused, though these Dash-8 300s, ZK-NEQ and ZK-NER have both had their tail number used on Q300s for Air New Zealand, the two operated by QNZ are not the same airframes, they would go on to fly with Origin Pacific instead for a few years.). QNZ flew to/from Auckland, Christchurch, and Wellington, Palmerston North, Dunedin, Queenstown, Invercargill, Nelson, Rotorua, and Hamilton.

Sadly for QNZ, financial troubles would begin almost instantly, with rising fuel costs and decrease of the New Zealand Dollar ($NZ). As losses amounted upwards of $100,000 per month, the airline was put into receivership on the evening of 20th April 2001, only seven-and-a-half months after beginning operations. Passengers up and down the country on both islands were left stranded, and so Qantas Australia sent a 767 and 737-300s to repatriate the stranded passengers. However, the Qantas 737-300s saw so much service here that they actually ended up starting regular commercial operations domestically within New Zealand. This would end up becoming Jetconnect, and they operated domestically until 10 June 2009. However those services were replaced with Jetstar services, who continue to do so today (except for a gap in 2020 due to the Coronavirus pandemic/COVID-19).

Qantas New Zealand, while it did not last long whatsoever, still has left a major impact on the domestic New Zealand market, especially due to the present-day Jetstar services. And, we ended up receiving domestic/regional Australian-airline flights starting late-2015 in the form of Jetstar anyway. Hell, Jetstar might not even be operating in New Zealand today if it weren't for QNZ, and Air New Zealand may have remained a monopoly with their ridiculous prices for such short flights. You could even say that this is thanks to Ansett, if you're willing to go even further back.

Fun fact, the BAe 146s ended up flying in Air New Zealand colours for a few months, but I'll cover that on a seperate post. In addition, most of the Dash 8s went to Origin Pacific, but they too will be covered on later posts.

ZK-NZL: 1990 British Aerospace BAe 146-300 | Qantas New Zealand | Currently: Scrapped in Melbourne in early-August 2007.

ZK-NER: 1994 de Havilland Canada DHC-8-311B | Qantas New Zealand | Currently: With Dynamic Aviation of United States as of 2017/2018 as N308H

ZK-NES: 1988 de Havilland Canada DHC-8-102A | Qantas New Zealand | Currently: Written off in fatal crash in Papua New Guinea as Airlines PNG flight CG1600 from LAE-MAG on 13 October 2011 due to forced landing in rough terrain due to dual engine failure. 28/32 perished, 4 survivors. Last registered as P2-MCJ.
Qantas New Zealand Fleet Poster