1

Boeing 737-300 - Flight 094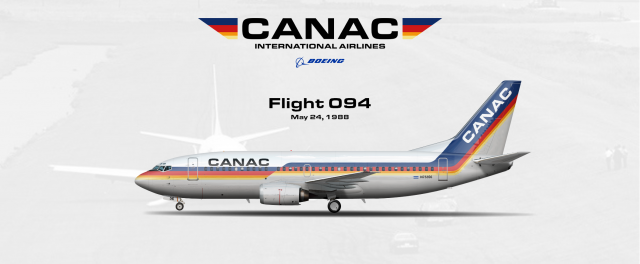 CANAC saw much success with their Boeing 737 aircraft. They were small enough to serve regional routes within Central America but large enough to bring in sizeable profits for said routes. It seemed CANAC couldn't get enough of the Baby Boeing.

In 1980, Boeing released plans to create new 737 variants that could carry more people than the 200 variant. CANAC would order these new variants two years later, which were the 300 and 400 respectively. The first aircraft was delivered in 1986, which was a 300 registered N75356. The inaugural flight was carried out in April 19th, 1986 from San Salvador to New Orleans.

N75356 served CANAC without incident until a fateful day on May 24th, 1988. Flight 094 was on approach to New Orleans after flying from Belize. The weather was rough, and a level 4 thunderstorm had reportedly formed in the area. Shortly after flying below 17,000 feet, both engines experienced a flameout due to hail damage. Faced with the reality that they would not make it to New Orleans, the pilots made the decision to make a deadstick landing. They chose to land in a grass levee adjacent to the NASA Michoud Assembly Facility. The landing was successful, and all on board were unharmed. The aircraft had an engine replacement on site and was flown back to El Salvador to continue service. The landing was second only to the Gimli Glider incident 5 years earlier in terms of media coverage.

N75356 would continue service for CANAC until it was transferred to it's Guatemalan subsidiary airline, CANG. It would fly for America West and Morris Air before finally ending up with Southwest Airlines. It flew for them from 1995 to 2016, when it was withdrawn and stored at Kingman Airport where it is still stored as of June 2022.
Boeing 737-300 - Flight 094