1
IAL A330 | AEAD 2022
Uploaded by
Redrado
, Jun 16 2022 04:09 PM
Copyright
Redrado / Med / FlyHigh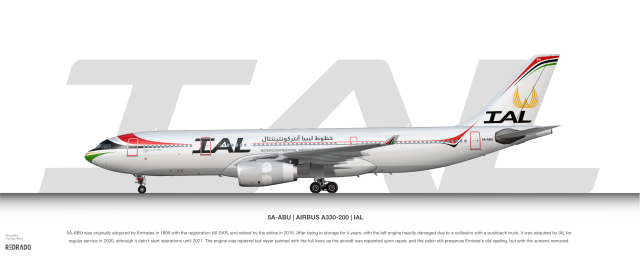 The livery of my entry for group A for AEAD.

Interscontinental Airways of Libya, better known as IAL, was founded in 1973 starting operations at Tripoli, as the flag carrier of Libya with a recreation of the arabic eagle in the new coat of arms as logo. Originally, it was named Inter Arab Airways of Libya, operating 4 DC-8 Super 60 previously owned by the Spanish flag carrier Volspain, with main destinations being the major European cities, including Madrid, Paris, Berlin and Milan. After several years of certain growth, in the decade of the 1980s, operations were suspended due to political conflicts with the United Nations, pushing the airline to temporarily cease operations until 1999 when they were lifted, with a change to today's name. During the following years, the airline would acquire a fleet of 5 A320-200s and a pair of A330-200s, with plans to grow towards further destinations. Between 2011 and 2020, during both civil wars, operations became limited operating just 3 A320s until the end of the second civil war where the airline got back 2 A320-200s and acquired 2 ATR-72s and one A330-200, flying back to Europe and northern Africa. The airline has started to grow again with plans to expand the fleet with more long haul aircraft and a route expansion to connect Libya with the world.

More branding, fleet, etc, can be found in the competition's page.
IAL A330 | AEAD 2022