1
Durango A318-111/A319-111
Uploaded by
macg
, Dec 23 2021 12:27 AM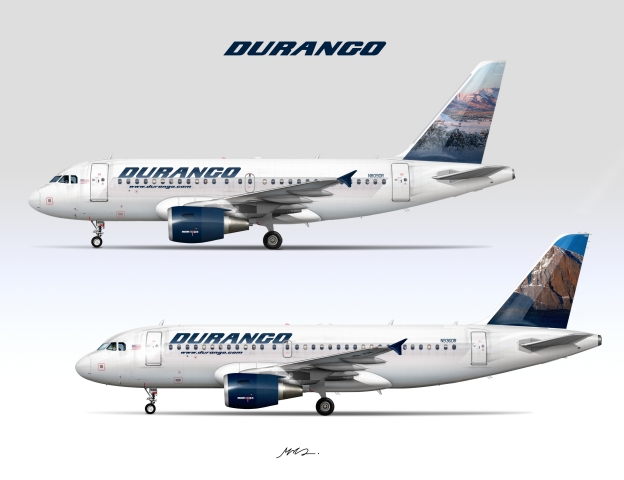 IATA - DR
ICAO - DUR
CALLSIGN - Range

Full Image
Durango Airways AIRBUS A318-111/A319-111
N809DR (Spanish Peaks) / N936DR (Longs Peak)
10.1/7.2 y/o

The baby aircraft for Durango. These aircraft were used on smaller demand markets, to fill demand for larger markets, and to test out new destinations for profitability. These aircraft are in the old all economy config.

[Denver-DEN]
Tampa-TPA
St. Louis-STL
Grand Canyon-GCN
Fort Lauderdale-FLL
Atlanta-ATL
Chicago-ORD
Detroit-DTW
Washington-DCA
Denver-DEN
Portland-PDX
Houston-IAH
Austin-AUS
Oklahoma City-OKC
Raleigh-RDU
Columbia-CAE
Oakland-OAK
Salt Lake City-SLC
Seattle-SEA
Los Angeles-LAX
Punta Cana-PUJ
San Juan-SJU
Newark-EWR
Memphis-MEM
Louisville-SDF
Des Moines-DSM
Milwaukee-MKE
San Francisco-SFO
San Diego-SAN
Oakland-OAK
Reno-RNO
Las Vegas-LAS
Billings-BIL
Boise-BOI
Bozeman-BZN
Burbank-BUR
Durango-DRO
Fayetteville-XNA
Jackson Hole-JAC
San Jose-SJC
Tuscon-TUS
Wilmington-ILG
Grand Junction-GJT
Fresno-FAT
Eugene-EUG
Grand Forks-GFK
Great Falls-GTF
Calgary-YYC
Edmonton-YEG
Vancouver-YVR

These aircraft are used in a 3-3 config seating 118-148
The A319s are still in limited service, while all A318s are retired.
Durango A318-111/A319-111