1

1987 to early 2000s: Beginnings
Uploaded by
Avelo
, Nov 27 2021 10:25 PM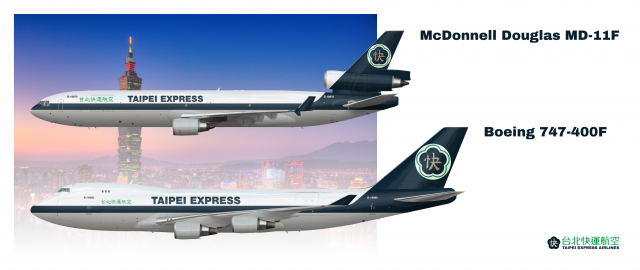 A Boeing 747-400F and McDonnell Douglas MD-11F in the former Taipei Express livery, used from 1987 until 2007.

MD-11F registrations: B-18970 (pictured), B-18971, B-18972, B-18973, B-18974, B-18975
In service: 1992-2020
Number of aircraft operated: 5

Boeing 747-400F registrations (1990s-early 2000s): B-18980 (pictured), B-18981, B-18982, B-18983, B-18984, B-18985, B-18986, B-18987, B-18988, B-18989
In service: 1994-present
Number of aircraft operated (including current fleet): 14 (6 older aircraft retired from service)

Taipei Express Airlines (TEA) was founded on 1 September 1987 by Taipei Express Co., Ltd. (Chinese: 台北快運有限公司; pinyin: Táiběi kuàiyùn yǒuxiàn gōngsī), a Taipei-based global logistics company specialising in moving and parcel delivery services within Taiwan as well as maritime cargo transport. It was the first all-cargo carrier in Taiwan, launching its first flight from Taoyuan Airport to Hong Kong's now-defunct Kai Tak International Airport on 7 December that year. Its initial fleet consisted of two Douglas DC-8-30 freighters acquired from US-based Rosenbalm Avation. By March 1988, the airline's route network expanded to Bangkok, Seoul, Singapore, and Tokyo (Haneda), bringing the destination count to five cities in East and Southeast Asia.

The airline's first route to North America was launched in 1992, operating from Taipei to San Francisco via Anchorage. This was soon followed by the addition of new cargo routes to Amsterdam, Frankfurt, Honolulu, Kuala Lumpur, Los Angeles, Manila, Melbourne, Seattle, and Sydney through the remainder of the 1990s. The early 2000s saw further expansion to Atlanta, Boston, Chicago, Dallas/Fort Worth, Dubai, Miami, and New York City (JFK) as well as the establishment of Anchorage as its first cargo hub outside Taiwan.
1987 to early 2000s: Beginnings