1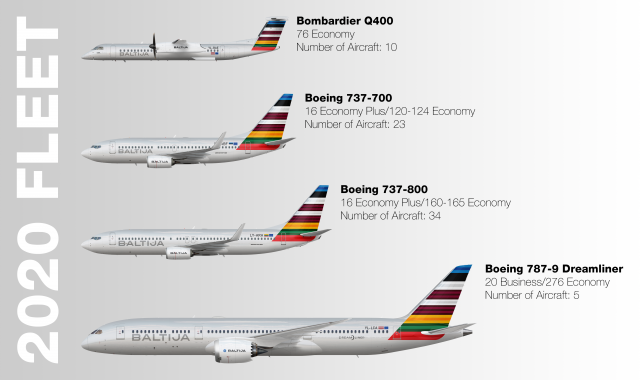 Baltija fleet as of March 2020 (Business replaced by Economy Plus on Boeing 737 aircraft in 2012)

10x Bombardier Q400
23x Boeing 737-700 (including 6 leased from AerCap)
34x Boeing 737-800 (including 3 leased from SMBC + 2 leased from Air Lease Corporation)
5x Boeing 787-9 Dreamliner

In August 2011, Baltija requested the Baltic governments to approve a bailout totaling more than €120 million amid mounting losses, suffering speculation about its financial position and political scandals throughout the year. In mid-September 2011, the company announced plans to lay off around half its employees and cancel around 700 flights a month to avoid possible grounding. The company also announced that a mystery investor was willing to pay €60 million for an additional 59,110 shares. The plans were annulled on 4 October to make the necessary investments in the airline's capital, with the governments of Estonia, Latvia, and Lithuania agreeing to invest their own shares in the airline's capital in proportion to their respective stakes. In connection with the agreement, then-President and CEO Bertolt Flick stepped down with Martin Gauss succeeding him as the new CEO. Gauss served as the last CEO of now-defunct Malév Hungarian Airlines prior to his debut with Baltija.

The cost-cutting program, initiated to make a return to profitability in 2014, scored better than planned results in 2012, by narrowing its losses to €27.2 million, down from €121.5 million in 2011. Though Baltija has been mostly state-owned by the governments of the Baltic states ever since its inception, on 6 November 2015 it was reported that the states approved plans to sell 20% of Baltija to German investor Ralf Dieter Montag-Girmes for €100 million who agreed to invest a further €150 million in the airline. The total of €350 million of fresh capital for the carrier is intended to spur its Horizon 2021 business plan and fleet modernisation strategies. Montag-Girmes's 20% stake in the airline was eventually taken over by Danish businessman Lars Thuesen in April 2017.

On 26 September 2017, Baltija announced that it would replace its leased Boeing 767 aircraft with 787-9 Dreamliners by mid-2019, which would also enable the airline to expand its long-haul operations in Asia and North America; the Boeing 737 MAX would succeed the existing fleet of Boeing 737 Next Generation aircraft used for short- and medium-haul operations. Orders for the latter, however, remain on hold as of April 2019 due to the impact of the worldwide groundings after the crashes of Lion Air Flight 610 and Ethiopian Airlines Flight 302.

On 17 March 2020, Baltija temporarily suspended operations due to the ongoing COVID-19 pandemic to limit the spread of the novel coronavirus. Some regular flights resumed in June, albeit on a reduced schedule due to a decline in overall passenger traffic.
2010s and beyond