1

Antelope/Springbok Express | Fokker 100/Fokker 70 | 2011-2015/2015-present
Uploaded by
A220
, Sep 15 2020 10:46 AM
Copyright
A220, templates by med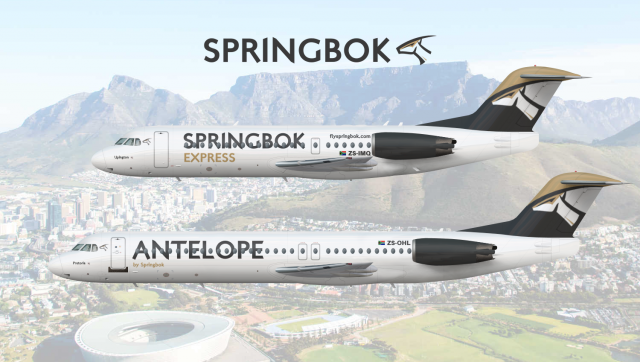 When Springbok rebranded in 2011, its regional subsidiary Antelope was still operating under its own name and a different livery than the mainline fleet. To increase brand recognition the 2011 Springbok livery was also applied to the regional fleet. Serving as the flagship of Antelope's large fleet was the Fokker jet family. With 9 Fokker 100s and 12 Fokker 70s in the fleet, these jets, serving since the mid-90s, could be seen in trunk domestic routes, while they helped Springbok expand to point-to-point internationa flight as well.

With a heavy (and expensive) C-check approaching in 2013-2015 for the fleet, Springbok scrambled to find a replacement for the Fokker 100. It quickly settled on the E190, which arrived between those years, completely replacing the larger Fokker jets. Half the Fokker 70 fleet was also replaced prior to their heavy D-checks around the same time, however the remaining 6 planes were retained, as management took until 2017 to order the E175, which would serve as their permanent replacement. As a result, the Fokker 70s got repainted into the new Springbok Express branding from August 2015, while the Fokker 100s never received the new brand identity.

ZS-IMQ is the 4th Fokker 70 Antelope received new in 1996. Although it spent most of its career based in Cape Town for regional flights, in 2014 it was relocated to Durban for short international hops. Although the Fokker 70 fleet was supposed to be retired in the end of 2020, the pandemic put a quick end to those plans, and in April 2020, shortly after the country's lockdown, Springbok Express announced the immediate retirement of the Fokker 70 fleet.

ZS-OHL was the 9th and last Fokker 100 that entered service with Antelope. It was delivered used to the company from the US in 2006, but had originally been delivered in 1991, earlier than most other Fokkers in its fleet. As a result, it was only the second one to be retired in February 2014, and was never repainted into the new branding.
Antelope/Springbok Express | Fokker 100/Fokker 70 | 2011-2015/2015-present