1
Antonov An-24B | 1991
Uploaded by
POTKC
, Apr 09 2020 05:50 PM
Copyright
Template by HEYEY, livery © POTKC 2020, reproduction or use not permitted without written and explicit consent.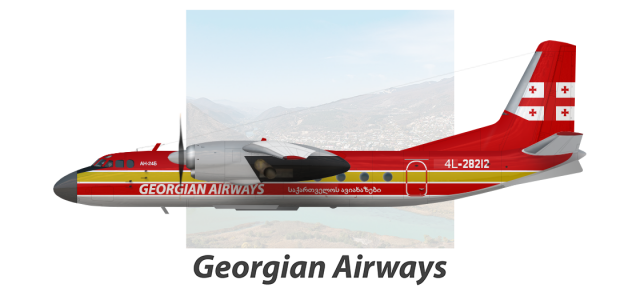 Airline - Georgian Airways
Aircraft - Antonov An-24B | 4L-28212
Delivered to Sovnaravia, 1966
Transferred to Georgian Airways, 1991
Stored at Tbilisi Shota Rustaveli International Airport, 2003
Scrapped at Tbilisi Shota Rustaveli International Airport, 2009
Livery - Standard 1991
Country - Georgia

The third aircraft type in the Georgian Airways fleet upon its formation was the Antonov An-24B turboprop, of which the airline initially had six. With a range of around 1500 nautical miles, these little turboprops did occasionally find themselves operating close to that range (for example to the Balkans, as well as being the inaugural aircraft on the airline's Sharjah route in 1996), however they were mostly confined to regional flights, rarely venturing farther than hops across the Caspian sea to destinations like Ashgabat and Tehran. With the introduction of new aircraft types, two Antonovs were stored in 1995, however the others continued flying until 2003/2004. Starting in 1999, and until their retirement, two were permanently positioned at Batumi due to the Black Sea resort city's growing tourism industry, flying several daily rotations to Tbilisi, but also creating direct links to Baku, Tel Aviv, Yerevan, and other sources of beachgoers heading to Batumi.
Antonov An-24B | 1991