1
Boeing 747-400 | 1998
Uploaded by
POTKC
, May 16 2019 11:56 AM
Copyright
Template by Medviation, liveries and seat maps © POTKC 2019. Reproduction or use not permitted without written and explicit consent.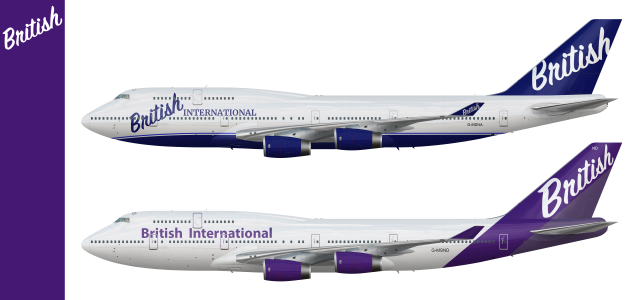 (TOP)
Airline - British International
Aircraft - Boeing 747-400 | G-MSNA
Delivered to AerCap, 1998
Leased to British International, 1998
Sold to British International, 2006
Stored at Rome Griffiths International Airport, 2008
Sold to Moscavia, 2011
Livery - Standard 1997
Country - Great Britain

(BOTTOM)
Airline - British International
Aircraft - Boeing 747-400 | G-MSND
Delivered to AerCap, 2000
Leased to British International, 2000
Sold to British International, 2006
Stored at Tel Aviv Ben Gurion International Airport, 2011
Sold to Moscavia, 2011
Livery - Standard 2002
Country - Great Britain

In 1998, British International received the first of its Boeing 747-400s, through the same lease-to-buy arrangement with AerCap as it was already using for its Airbus A320s. All the 747-400s (eight in total) were delivered by 2001, and painted in the airline's original livery. The original cabin configuration (see below) included 70 angle-flat Business Class seats with unusual bright purple upholstery, and 369 Economy Class seats. Following Global Airlines, British International became the second major carrier to offer in-seat IFE in all classes - the 747s were outfitted with personal screens in both Business and Economy from the very beginning. It was also during this time - around 1998/99 - that the airline began pivoting towards a full-service model rather than operating just leisure flights. In mid-1998 the London Heathrow base was officially opened, with all 747-400s as well as all but three previous-generation 747s operating from there instead of Stansted. The airline overhauled their service concept completely, aiming to compete with Royal Airways, and even introduced a bar on the new 747s. The first long-haul flight operated by the reinvented British International was flown to Newark airport, operated by G-MSNA. Newark, Boston, and Los Angeles were the airline's three full-service US routes from Heathrow in 1998 and 1999, flown (except Newark) by 747-200 before the delivery of more -400s in 1999. Miami and Orlando continued to be flown from Stansted for some time. Short-haul and European destinations were also gradually shifted to Heathrow.

In 2000, the airline was purchased by an investment group supported by the Birmingham-London Trading Bank. BLTB financed an order for A330s (shown in a future upload) and organized a rebranding, which was rolled out on a 747-400 registered G-MSND in December 2002. Featuring two shades of purple, a new font, and an amended version of the old cursive tail logo, the new livery was a huge modernization of the old one. To match the modernization, a new cabin design was introduced on the A330s in 2003, and these changes were transferred over to the 747-400s in 2004. The new hard product (see below) featured more dignified darker shades of purple, as well as improved lighting and entertainment systems. With only 44 Business Class seats instead of 70 like in the previous configuration, the product was completely reimagined, introducing the first staggered seats in history - a revolutionary concept at the time. The seats converted into fully-flat 81" long beds, 28" wide at their widest point, and naturally with direct aisle access from every seat. Just two years after the introduction of the first fully-flat beds in Business Class, this was a huge leap forwards, and attracted masses of business and leisure travelers to the airline. Premium Economy was also introduced for the first time (36 seats on the top deck in the 747) , which were basically just the same seats as in Economy with different upholstery and with 37.5" of pitch instead of 33". New seats were used for Economy Class - slimmer than the old version, which significantly increased knee- and leg-room. The seat count in Economy remained the same, meaning this increase in space was not abused by the airline to increase cabin density. Finally, the bar was completely changed from the way it was in the first 747-400 configuration, greatly enlarging and improving it.

In 2006, with a joint loan given by BLTB and Citibank, British International accelerated the lease-to-but process it had agreed on with AerCap, buying out all eight 747-400s from the lessor at a negotiated value of only around $180 million per aircraft, in a total deal worth approximately $288 million in total as most of the value had already been paid through the lease agreement. While this was taken by some as a sign that the airline was committing to operating the 747-400s for quite some time, this was not the case. Because of the more efficient A330s the airline received in the mid-2000s, as well as the effects of the financial crisis, the 747-400s began to be retired in 2008. The last one left the fleet in 2012. While some were stored indefinitely despite their young age, and a few other went to various airlines, four of the eight ended up with Moscavia in 2011.

Note: Click the image below to open a full-size version in a new tab.


Boeing 747-400 | 1998