1
First Widebodies | 1981
Uploaded by
POTKC
, Aug 12 2018 07:19 AM
Copyright
Templates by Medviation, liveries © POTKC 2018, reproduction or use not permitted without written and explicit consent.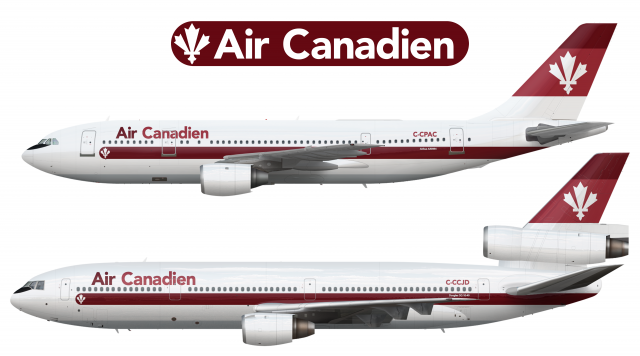 (TOP)
Airline - Air Canadien
Aircraft - Airbus A300B4 | C-CPAC
Delivered to Nordreihn Flug, 1977
Sold to Air Canadien, 1981
Stored at Mojave Air & Space Port, 1987
Returned to Service, 1991
Sold to Atlantic Charter, 1997
Sold to Solomonese, 2002
Stored at Victorville, 2005
Sold to Voyage, 2009
Livery - Standard 1978
Country - Canada

(BOTTOM)
Airline - Air Canadien
Aircraft - Douglas DC-10-40 | C-CCJD
Delivered to Air Canadien, 1981
Converted to DC-10-40F, 1998
Transferred to Air Canadien Cargo, 1998
Stored at Victorville, 2015
Livery - Standard 1978
Country - Canada

After the passing of the Air Canada Act in 1978, Air Canadien became able to more fully compete with Air Canada, which led to the opening of many new domestic routes from both Montreal and Quebec City. The same year, a new brand identity - dubbed 'Fierté du Canada' - was introduced on the newly acquired DC-8-63. In 1980, Douglas DC-9-30 and -50 aircraft were received by the airline to facilitate further expansion on routes the small Fokker F28 jets and old Comet 4Cs were not as well suited for. The same year saw Air Canadien operate its first international flight, when a DC-8-63 registered C-CPKB operated flight 3202 from Quebec City to New York JFK (the flight would later be operated by a DC-9-50). DC-8s and DC-9s would fly all routes into the United States in the first few years of international operations. The third aircraft type acquired in 1980 was the DC-10-40. Air Canadien opted for the Pratt & Whitney JT9D-powered 40-series due to its close relationship with PW, which supplied engines for all Douglas aircraft in the fleet. These DC-10s would operate flagship routes to Europe (and later some to Asia), but it soon became apparent that a smaller widebody was necessary for lower-demand destinations. While Air Canadien placed orders for Boeing's upcoming 767 late in 1980, in 1981 a purchase of eight used Airbus A300B4s (also powered by the JT9D) was made from a German carrier. These were the only Airbus aircraft Air Canadien would operate. While the DC-10-40 fleet would grow to include over twenty aircraft at its peak, only eight A300B4s would ever be flown by the airline.
First Widebodies | 1981