1

aerocuba European routes.
Uploaded by
Sheepy
, May 09 2013 06:49 AM
Copyright
http://www.yoel.info/world_outline_map_blank_public_domain_royalty_free.gif is the world map. OTHER THAN THAT IT IT IS ORIGINAL CONTENT DO NOT STEAL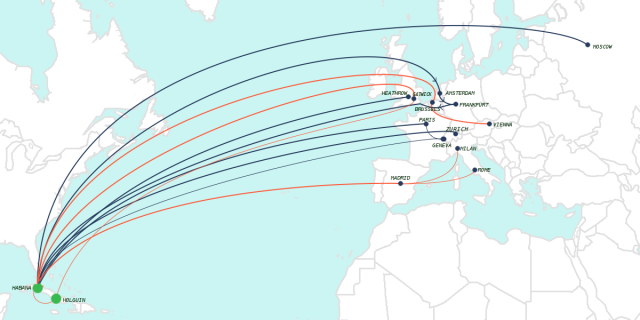 This is fictional routemap loosely based on aerocuba's in-game routes.
Orange routes are operated by A310s, blue routes by A330s.

HAV-LHR-HAV 5/week

HAV-ZRH-HAV 3/week

HAV-DME-HAV 5/week

HAV-AMS-FRA-HAV 5/week

HAV-CDG-HAV 2/week
HAV-CDG-GVA-HAV 1/week
HAV-GVA-CDG-HAV 1/week

HAV-LGW-HAV 2/week
HAV-HOG-LGW-HAV 1/week
HAV-LGW-HOG-HAV 1/week

HAV-MAD-HAV 1/week
HAV-MAD-MXP-MAD-HAV 3/week
HAV-MAD-FCO-MAD-HAV 3/week

HAV-BRU-VIE-BRU-HAV 3/week
aerocuba European routes.