1
737-200Adv | 1980
Uploaded by
POTKC
, Feb 12 2019 09:42 AM
Copyright
Template by Medviation, livery and seatmap © POTKC 2019, reproduction or use not permitted without written and explicit consent.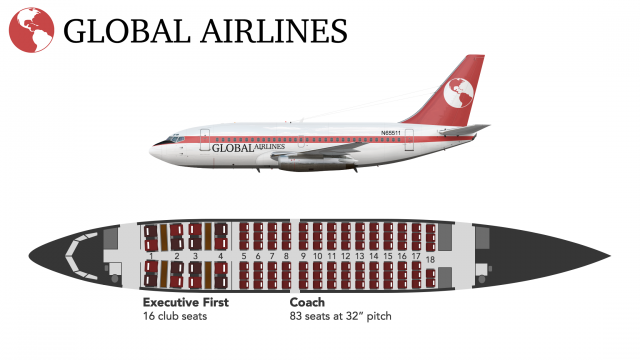 Airline - Global Airlines
Aircraft - Boeing 737-200Adv | N65511
Delivered to Global Airlines, 1980
Sold to CaliConnect, 1996
Sold to Aeromexicana, 1999
Damaged beyond repair at Manuel Márquez de León International Airport, 2004
Livery - Standard 1980-1985
Country - United States of America

Global Airlines started life in 1980 as a minor airline, operating flights between LaGuardia Airport in New York and Washington National and Boston Logan. Its fleet at the very beginning consisted of three Boeing 737-200s and two Douglas DC-6Bs. The 737s were configured with an innovative 'Executive First' product, arranged in four sets of club seating, catering to business travellers between the three main Northeastern cities.

Note: Image reuploaded due to problems with original export. See the previous version here.
737-200Adv | 1980