1
Map of Dhahran
Uploaded by
POTKC
, Dec 05 2018 12:07 PM
Copyright
© POTKC 2018, reproduction or use not permitted without written and explicit consent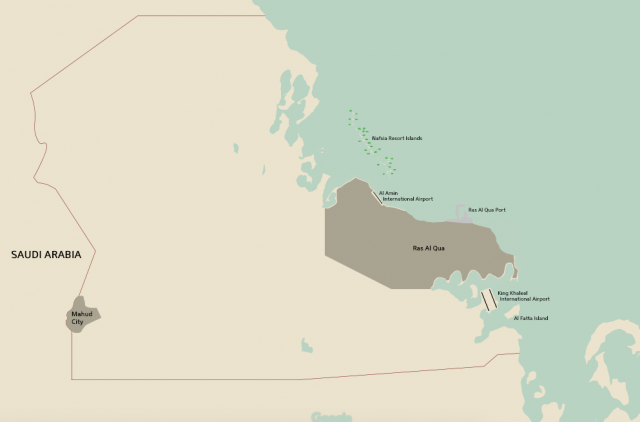 Gaining independence from Great Britain in 1975, the Kingdom of Dhahran was founded on a 6000 square kilometer plot of land on the coast of Saudi Arabia, north of Qatar and Bahrain. The first ruler of Dhahran was King Samir bin Mahdi al Amin, of the al Amin royal family. The small city of Ras Al Qua became its capital, and grew quickly as the country developed. In 2018, 93% of the country's 6 million residents live in the capital city. In 1976, a significant previously undiscovered oil reserve was found in the Kingdom, extending from the center of the country west, far into Saudi Arabia. Oil drilling in the Dhahrani desert caused the formation of Mahud City adjacent to the border with Saudi Arabia. Additionally, in 1976 the Kingdom of Dhahran joined OPEC.

Beginning in 1975, construction of an airport had been underway, but this was sped up after the discovery of oil, and by mid-1976 Al Amin International Airport (SMA - ODAA) was complete, located 25 kilometers outside the city at the time. With its single 9200 foot runway and small terminal, SMA was nothing to write home about, however it was sufficient to begin air service in the Kingdom of Dhahran. Royal Dhahrani Airways was created as a fully government-owned carrier, purchasing and leasing several aircraft from Britain's flag carrier, Royal Airways.


Disclaimer: This project is designed to look at the progression of aviation in a more-or-less generic fictional Middle Eastern state. Any similarities to real people, locations, or situations may be intentional. I have zero knowledge of Arabic, so while I have spent considerable time trying to get it right, mistakes are possible, and any advice is greatly appreciated.
Map of Dhahran