1
Hellenic Cargo Poster (00's scheme)
Uploaded by
0M4R
, Jun 14 2018 06:23 PM
Copyright
0M4R, Template by Medviation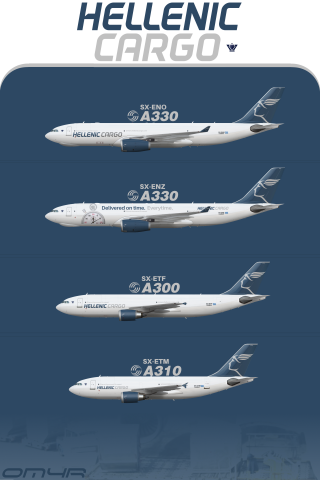 FULL SIZE!

With the A300B2 nearing its retirement, Hellenic decided it would be the best time to start a cargo subsidiary by converting its 6 A300B2s into freighters, extending their lifetime by a predicted 5 to 10 years.
In 1994, as A300 conversions became more popular, the fleet of 6 A300B2s (excluding the first A300B2 which was fully retired) were converted into cargoliners and entered operation with the newly founded Hellenic Cargo subsidiary. The fleet was given a simple edit from the 90's livery to save costs as seen below:


Older A300s that were out of passenger service entered operation with Hellenic Cargo in 2004 after conversion and as of 2018, are still in service, in the final stage of retirement. At that same time, the final A300B2F was fully retired, replaced by the A300F. In 2006 as the new Hellenic rebrand was introduced to the mainline fleet, Hellenic Cargo was given a refresh with a slightly different color scheme suiting its niche. The livery was first introduced on the older A310 that was also converted in time for the new livery. The A310Fs served a role that was desperately needed in Hellenic Cargo's operations. In 2006, the fleet totaled 9.
The final addition to the fleet, in 2014, was the arrival A330-200F, the first non-converted Hellenic Cargo aircraft and the replacement for the A300-600. Later that year, a special livery was painted on SX-ENZ as seen in the poster.

In early 2018 Hellenic Cargo joined Dynasty World Alliance Cargo, implementing even higher quality services and on-time performance.

As of 2018, Hellenic Cargo is extending the operation of their A310Fs well into 2020-2025 until a suitable replacement has been found. Hellenic Cargo is also considering the proposed A321P2F conversion to replace its A310F aircraft starting from 2019. The A300F fleet is expected to be fully retired by 2020 and due to the increasing demand for air freight carriers, Hellenic Cargo will be converting its older A330s into A330P2Fs to join the fleet somewhere inbetween 2020 and 2025.
Hellenic Cargo Poster (00's scheme)